Julie Wright named 2017 Utica High School Teacher of the Year
On Wednesday, March 15, an emergency staff meeting was called by principal Tom Lietz.
Most staff members already knew that such a meeting would be called – almost everyone except for teacher Julie Wright. There, she was surprised to find out it was officially announced to staff that she was named the 2017 Utica High School Teacher of the Year.
"I thought, 'Oh my god, this is an emergency'," Wright explained. "I thought they were going to announce [Teacher of the Year] at the faculty meeting, but I was sick."
The Teacher of the Year is nominated by fellow Utica High staff members. Principal Lietz typically sends out a notice asking for nominations, and department chairs relay the message to teachers within their department.
Wright knew that she was awarded the honor shortly before the December holiday break, but that didn't take away from the excitement of the surprise announcement in March.
Lietz announced that Wright was the recipient of the award to select staff members in February at a meeting of the department chairs.
"It wasn't a surprise that I knew that [I received the award], but it was a surprise how they announced it," she said.
The faux-emergency meeting wasn't all serious. Some students were on-hand to help get a celebration started.
"It was a lot of fun," senior and SSP member Kayla O'Kray recounted. "SSP had to first meet in Mrs. Hilliard's room to get the cake and everything for the surprise, and then when we got the 'okay' call from Mrs. Hilliard, we had to run down the hall and surprise Mrs. Wright."
Wright was surprised to receive such a celebration, since she didn't expect that there would be much to the official announcement.
Not only does she manage instructing an AVID class and four different levels of the Spanish language, but Wright keeps busy by being a key adviser for many different academic and extracurricular programs. She is the World Language Department chair, manages Hispanic Honor Society and its 100+ members, advises Book Club and Utica United, and is a mentor teacher for the Senior-Sophomore Program.
For some, it's no wonder that she received the award.
"I think it's awesome. I think she totally deserved it because she's an awesome teacher," O'Kray said.
"She's such a great teacher," junior Alexina Saji said, "and she really deserves it. I'm happy for her."
Students of Wright seemed thrilled to know that their teacher was named the best of the year. Her 5th hour class applauded her when she entered the room to begin class.
"She seemed really excited," junior Claire Gulish, a student in Wright's 5th hour said.
With all of the excitement surrounding her and the announcement of her award, Wright is just trying to take it all in.
"It's humbling, but I'm super excited too," she admitted.
About the Writer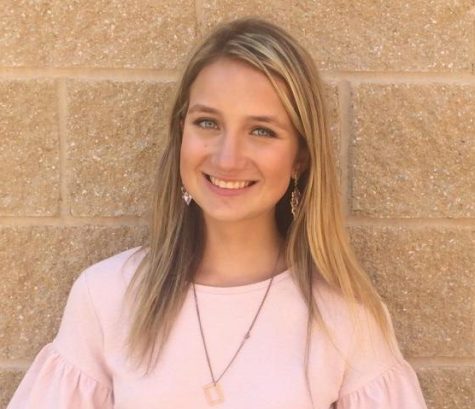 Elizabeth Cetnar, Editor-In-Chief
Elizabeth Cetnar is a senior and is proud to be the editor-in-chief of the award-winning Arrow newspaper. During her second year on the newspaper staff,...