DECA competitors headed to international championships in California
5 seniors qualify for international competition at state championships
Disneyland. Hollywood. The Golden Gate Bridge. Silicon Valley. To many, California is a land of wonder and opportunity. From April 26-29, marketing students will have the opportunity of a lifetime to travel to Anaheim, California, to compete at the DECA International Career Development Conference in hopes of being named international champions.
The DECA competitions allow students to "demonstrate their college and career knowledge and skills" in order to prepare them to be leaders and entrepreneurs in careers in business, marketing, and other related fields. Seniors Kiah Anderson, Tyler Newton, Danielle Kaschalk, Clay Holmes, and Kyle Pezanowski are just some of the competitors that will show their skills to judges in Anaheim.
All of the students are advised by teacher Dana Boice. She will be travelling with them to the international competition to watch and offer support.
"We're always so excited every year," Boice said.
The competitors each participate in a variety of events. Kaschalk does a fashion merchandising event, while Pezanowski competes in sports and entertainment marketing.
"It's a real blast," Pezanowski said.
The international champion-hopefuls, along with their adviser, are all excited for the upcoming trip.
"I'm really excited because I've never been to California," Anderson admitted.
Newton's upcoming trek to compete in Anaheim will be his first visit as well.
"I've never been to Anaheim and I'm very excited to go," he said.
In addition to competing and attending the DECA conference, the group also plans on partaking in local fun. Newton said that Disneyland is in their plans, along with "a pool party".
Whether or not they return as international DECA champions, the competitors are just excited to go compete after a long DECA career.
"It feels really good," Newton said. "I put a lot of hard work in."
Pezanowski agreed with Newton.
"We put a lot of hard work in."
"I've been in DECA for the last 3 years and I've been to States for the last 2 years," Anderson explained. "I could never make it to Nationals, so it feels good that the hard work's paying off this year."
About the Writer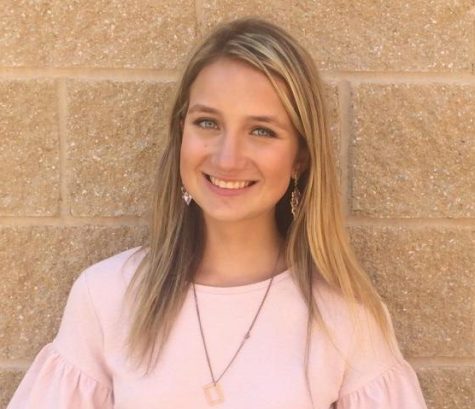 Elizabeth Cetnar, Editor-In-Chief
Elizabeth Cetnar is a senior and is proud to be the editor-in-chief of the award-winning Arrow newspaper. During her second year on the newspaper staff,...