Track team breaks records at states
After a season of hard work and determination, the track team closed off their season with many accomplishments at states. With a successful season of winning the MAC White championship, certain individuals were qualified to attend states which was held at East Kentwood High School.
"I am very proud of this team," coach Megan Berry said. "They competed hard at every meet and this team had a lot of heart."
Heading into states, the 4x100m girl's relay team consisted of sophomores Lauryn Goosby and Mone Knowles, junior Hanna Gehrke, and senior Gabby Pawelek. The girls broke the school record with a time of 49.79 seconds.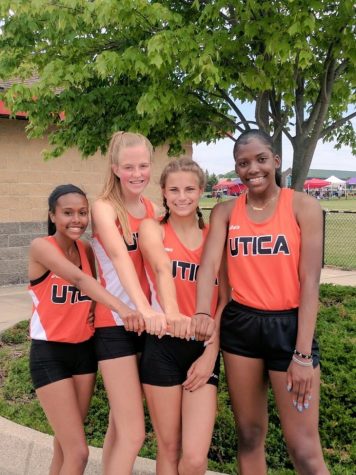 "They are all very hardworking, competitive, and a tight-knit group," Berry said. "Breaking the school record at the state meet was the perfect way to do it."
They beat the previous record by a second which is a significant drop.
"I was happy about breaking the school record," Goosby said. "I was shocked because we didn't expect to break it."
With a previously broken foot and a surgery that followed, junior Sam Narusch started off the season in recovery mode. While still healing, Narusch still competed strong and qualified for states. Throughout his successful season he broke the school record, placed second in the region, and was a county and division champion. During the state meet, he placed third in the state with a long jump of 6'5.
"I'm happy with the results," Narusch said. "I could've done better, but I'm happy to make it to states."
Senior Gabe Garbarino ended his four years on the track and cross country team with much to be proud of. Garbarino broke the school record in cross country, is third on the all-time list in the mile, qualified for states multiple times in track and cross country, and has received other accolades such as earning MVP at the division meet this year in track. At his last state meet as a Chieftain, he ran a 4:26.28 in his 1600M, and 2:03.69 in his 800M. Garbarino plans to continue his running career at Bowling Green State University.
"He has grown as a leader and focuses on the team's success," Berry said. "He is a great kid and I know he will continue to be successful at the college level."
More scores from the 2017 track season can be found on their website.