Science teacher surprised with baby shower
Pink and blue balloons, an array of food brought in by the class, and a specialty "Hello Kidney" cake made by students Kayla Cristodero and Evan Zack as a punny reference to their science teacher, the surprise baby shower for Bryant Sebastian and his expecting wife thrown by his sixth hour class was a huge success.
Those in his class knew that his wife was expecting their third child soon and wanted to do something nice for their Physiology teacher, so with the help of organizer senior Cassidy Hough and a groupchat, their plan began.
"We were awake until at least midnight yesterday getting everything ready," Hough explained.
The pair in charge of the anatomy-designed and Hello-Kitty-referencing cake, seniors Cristodero and Zack, thought the joke behind it would be a funny addition to their party after finding the idea for it online.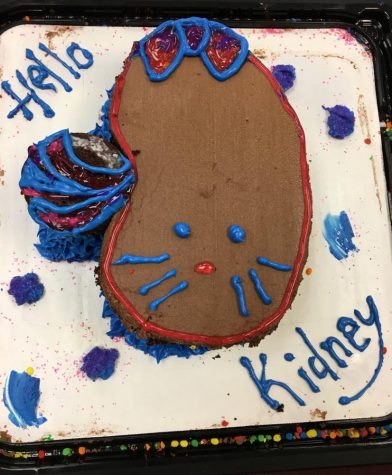 After recovering from being truly surprised by the baby shower, Sebastian was able to comment on his expecting wife and the unknown gender of their future child.
"She's being induced into labor," Sebastian said, "and then I will be away for two weeks with the new baby."
Sebastian's class wished Sebastian the best of luck, and said they can't wait to hear all about the newest addition to the Sebasitan family.