Broken Bones
How I kept my faith going from the hospital back to the court my senior year
God, family, friends, and basketball. Throughout my life, these four things have meant everything to me. I've played basketball my entire life, whether it was in my front yard, joining pickup games with my friends, or playing for my high school team.
As starting center and leader of the posts, I was ready to help lead my team to a winning season following my junior year. During the beginning of summer league, my team and I were gaining chemistry and really working well together. I thought we had a great chance next year, and I was determined to work hard during the summer and accomplish my goal of leaving my mark on this team and program. 
"
I looked down and saw my right leg dangling in two, and my bone nearly sticking out of my skin."
During an early summer league practice in late June, the ball was passed to me as I was running down the court. I decided to go up hard to the basket, going over top some of my teammates. As I came down I heard a loud snap and immediately had no feeling in my right leg. I looked down and saw my right leg dangling in two, and my bone nearly sticking out of my skin. I yelled out in pain and shock as my coach rushed to my side and held my leg together, yelling for someone to call 911. As I saw my teammates' look of horror, I knew it wasn't a dream.
While I laid there in pain and shock, all I knew is that I had only one way of gaining peace: God. I prayed to Him as I waited for the paramedics to take me to the hospital. As the paramedics strapped my in to the gurney before wheeling me away, my teammates and coaches approached me, encouraging me by telling me that everything was going to be OK.
I wasn't so sure. While I was leaving the court, I began to tear up, knowing that my career and opportunity to play my senior year was over.
At the hospital, I found out I snapped my tibia and fibula in half, virtually snapping my entire shin bone in two. I needed a three and a half hour surgery, but I would have to wait overnight to enter the operating room. Because of a previous illness, I was unable to have high doses of pain pills, so that night I laid awake all night in pain, wishing it was all a dream.
After my surgery, the doctors told me the break was severe. They had to put in a metal rod and many screws into my bone. They also told me that I would have to be in a hard cast and not leave my house for three and half weeks, and even then, I would be in a walking boot, forced to lay in bed for the rest of the summer.
Those three and half weeks were the most challenging weeks of my life.
"
Every night I laid in bed losing sleep because of the continuous pain asking God, "Why?""
Every day I watched the clock tick slowly by, begging the day to go by so the day could finally be over. Every night I laid in bed losing sleep because of the continuous pain asking God, "Why?" I was so confused on why this happened to me. I continually asked myself if I did something wrong. I wondered if maybe God was punishing me for something.
Just when I thought I would drown myself in despair, I found a peace. I started to read books on God's love and just listen to worship music to take my mind off of the pain and the depression. As the weeks slowly went by, my physical pain was going away; however, my mental pain was only increasing. Despite the peace I had found, I still felt like I lost everything. I lost my ability to walk, my ability to play my favorite sport, and my plans with all my friends during the summer. I was left with the feeling of being alone.
In August, I worked every day with a never ending hope that I could come back and start, leading my team the way I thought it was supposed to be. When the summer came to a close and school was about to begin, I felt I was ready to jump right back in my starting position and my normal life like nothing happened. However, as the first few months went by, the more I pushed myself, the worse the pain got. I didn't realize how much time an injury like this took to recover from. I became frustrated with myself, at the fact it felt like my life wasn't going anywhere. I felt stuck again, like I did during the summer. I had hoped that when I got to this point I would have the energy I once had, along with my lust for life. I began to go through an on and off depression for many months, with no end in sight. I felt like I was all by myself and couldn't understand how the beginning of my biggest high in life turned into my lowest low. I felt like I was still being punished by God and that He was never going to take me out of this trial. 
"
You will never be alone, if God is with you."
As I was drowning myself in despair, I saw something that changed my whole attitude on my situation. I heard that an old friend of mine from junior high had the exact same injury as mine, playing basketball, as well. I didn't hesitate to text him immediately to find out what happened. As I listened to my friend vent and tell me how indescribable the pain was, it brought me back to the long days during the summer on the couch. I knew that I couldn't sit back and watch a friend of mine go through the same thing as me. The more I talked to him and encouraged him, the more the depression was going away. I began to think of others, in contrast of always feeling sorry for myself, as I had been doing ever since my injury. Whenever I felt myself falling back in my ongoing depression, I would text my friend and ask for prayer. As I was feeling like I was alone, my friend told me a statement I would never forget. He told me, "You will never be alone, if God is with you." As I heard those words from his mouth, I was amazed. Not only did God put me in his life to help him, but He put him in my life to help me.
When my senior year began, I felt the fatigue of everything that had happened over the summer weighing down on me. It was difficult to transition from being home all day, to being on my feet throughout the school day. Still, I found the strength to make it to physical therapy, preparing myself for the upcoming basketball season.
As the basketball season was about to start, I found out that I had nerve damage on my foot and that I would have to have a second surgery. It happened two days later, and only a week away from tryouts. I didn't understand why this happened, especially at the worst time. However, I didn't want that to stop me, so I continued to fight, despite the pain.
Even though I wasn't able to participate fully at tryouts, my coach pulled me aside and told me that I'm part of the team and that they expected me to contribute to the team. However, my coach said if I don't recover in time, I can leave my legacy in another way. I didn't really understand what he mean't by that and I blew it off.
As the basketball season continued, I was getting better very slowly. However, after every practice I became more and more tired and the leg pain was unbearable. Almost halfway through the season, I questioned my role on the team and I was ready to quit. When I came to the conclusion that I was going to quit, I began to tear up, realizing that I wasn't going to complete my goal of making a comeback and playing in the game I love. I went to my coach and explained my situation, expecting it to be over right there. However, he encouraged me not to quit and do what no one thought I could. As I prayed about the decision I was going to make, I knew my story wasn't over yet.
"
I knew my story wasn't over yet."
As I continued to battle through the season, I wondered what my purpose was, or what the point of playing was. As I thought about this, I got a text from my friend, stating how scared he was of never doing anything again, and how he thought he was never going to get through this. I knew right then and there that my purpose for playing this year was to show people who have gone through any injury similar to mine that they don't have to be afraid. Through God, you can do anything, despite physical setbacks.
As the season went on, I became more and more humble. I went from starting center to getting water for the underclassmen who replaced me. I knew I had a good chance of never seeing the floor this season, and I was accepting of this truth. However, my mom kept telling me, "You're going to have your moment." I didn't realize what this meant and I shrugged it off like she never said it.
As the day of our biggest game came, my eagerness to play was at an all-time high. It was a Friday night game against our biggest rival, during our cancer fundraising night. I wanted so badly to play, especially in honor of my mom, a cancer survivor whose name was on the back of my jersey for this special event. As the game started, I knew I wasn't going to play; I was disappointed, but not depressed about it. It was an exciting game, and I cheered as my team went on a huge run, blowing out the other team. I thought to myself, "It would be funny if I could get in." My teammates began begging my coach to give me a chance, but my coach was very hesitant to put me in, denying my request to be put into the game. 
Just when I thought my final chance of playing was over, my coach, being very scared, gave me a subtle nod and I went in. As I went, the crowd went crazy—like I hit a game winner. When I went in for the first time, my emotions hit me like a storm. There was only a minute thirty left in a blow out, however that moment meant more to me than playing great, like how I had envisioned my senior year of basketball .
After the game was over, I started to tear up, once again, thinking how unreal this was. After that game, I immediately texted my friend and he told me how inspired he was to fight this injury. I knew I had more to accomplish, and that I was playing for a purpose.
The anticipation for my senior night was indescribable. My coach told me I would start and play a few minutes, despite me not being in the physical shape I was once in. In preparation to this game, I knew this was more than likely my last game. Before the game, I reminisced about all the things I've been through to motivate me. I wanted to end my story as a motivation to other people and make the end memorable. As I stepped on the court for my last time, the feelings of accomplishment rushed over me like a storm. After playing only two minutes at the start of the game, I wouldn't see the court for the rest of the game. But it didn't matter. At the end of the game, which we won in a buzzer-beater, I rushed over to my mom and dad, who took care of me the entire summer, and helped me and prayed for me during my depression. I threw my arms around them and thanked them, while tears came down all of our faces.
While I was driving home from the game, I thought back to the sleepless nights of enduring pain, to the uncertainty and impossible thinking of ever having a comeback, I knew I accomplished something bigger than basketball. I learned its not about winning or playing the best, it's about the story and the journey of getting there. I wouldn't change a thing of what happened to me. The experience of this journey is something that I wouldn't have ever received if I was starting and playing well throughout the season. At the end of the day, this experience, and my accomplishment, was something that I never would have guessed could have happened in my life.
I did it.
About the Writer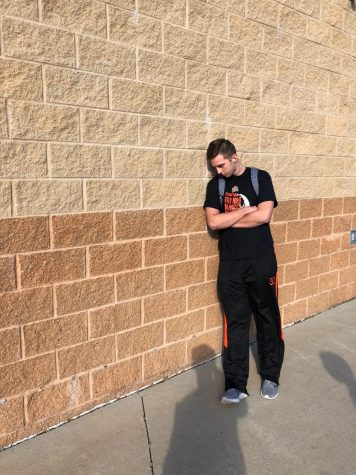 Donnie Krall, Business Manager
Senior Donnie is the business manager and is in his third year on the newspaper staff. He is ready to finish up newspaper in style. He plans to make a...