Love, Utica United
LGBTQ+ club heads to the theatre opening weekend to see "Love, Simon"
Grab the popcorn and slushies, because it's movie time for Utica United. Warning: This may contain spoilers for "Love, Simon."
The club went to see the new film "Love, Simon" Mar. 16 after school. Organized by teacher Julie Wright, those who attended met at Emagine Theater.
There was much excitement surrounding the movie prior to its premiere, due to it featuring a gay relationship integral to the plot. The film is seen as a milestone for LGBTQ+ representation, and is expected to have a large impact on youth.
"Kids can look up to it," senior Veronica Poker, president of Utica United, said. "They can see a happy ending."
Although the movie had comedic elements, many of the scenes were emotional. Some were especially touching for LGBTQ+ viewers, who could relate to the film.
"I saw it twice – once with [Utica United] and once with my boyfriend," junior Jonathan McGee said. "I cried both times. I cried at the ending, but it's my favorite part."
One scene that seemed to be a tearjerker was between Simon (portrayed by Nick Robinson) and his mom (Jennifer Garner). In this scene, which occurs not long after Simon comes out as gay to his parents, Garner's character tells him that he can finally breathe. This hit close to home for junior Aubrey Zahlmann. 
"It was like with my mom," Zahlmann said. "She told me 'you're valid' and 'everything will be okay.'"
Overall, the film was accepted as an accurate and important step in the right direction for LGBTQ+ youth.
"The movie 'Love, Simon' was pretty important. In my own experience, queer characters in TV shows and movies have mostly been side stories, but 'Love, Simon' puts a gay character and his journey front and center. I don't personally get very emotional at movies like this, but in the theatre I cried about three times," Zahlmann said. "I can already tell that Simon's story will  impact questioning or closeted people, and I also hope that it helps the friends and family of queer people understand them better."
About the Contributor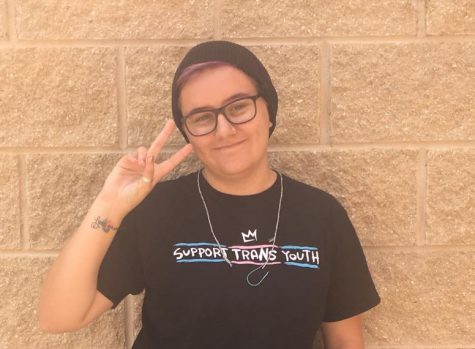 Parker Hopkins, Digital Editor-in-Chief
Parker Hopkins is a senior and this is their third year on the Arrow staff. When they aren't working on the newspaper, they spend a majority of their time...