"Love, Simon" is amazing step forward for LGBTQ+ representation
Unless you've been living under a rock, you've probably heard of the new coming-of-age film, "Love, Simon".
The film tells the story of 17-year-old Simon Spier (portrayed by Nick Robinson), a gay boy still in the closet. Throughout the film he deals with coming out to friends and family, being outed, trying to find out who his mystery pen-pal is, all while navigating his senior year of high school.
As mentioned, the film tackles topics that other movies have avoided, such as being forcibly outed. This refers to someone revealing another's sexuality without their permission. This is addressed in the film as Simon is outed by another student on their school's blog – leading to a whole mess in the following weeks.
Another thing that "Love, Simon" showcased was the difficulty and anxiety that accompanies coming out to family. In the film, after Simon is outed online, his sister immediately comes to him, offering support. She is visibly upset by the post, reassuring Simon that it will be deleted soon and asking whether or not it was true. I found this very comforting, to see this relationship between Simon and his sister, as strong sibling bonds like this aren't often portrayed in films. Much less in films centering on gay teenagers.
Along with his sister, Simon came out to his parents. Some of the scenes following, when he had one-on-one talks with both his mom and his dad, were really emotional for most viewers.
The scene with his mom, for instance, was very similar to my mom's reaction when I first came out to her – open and accepting, wishing that she'd known sooner to make it easier. One line, in particular was a real tear-jerker. Simon's mom (played by Jennifer Garner) sat him down and gave a whole monologue, ending with the words, "you can exhale, now."
Coming out to friends was another big topic in the movie. After a night out with one of his best friends, Simon decides to come out to Abby (played by Alexandra Shipp) on the way back home. It was a really powerful scene, as there was no question on whether Abby would accept him or not. Immediately, she was telling him that she was happy for him. This resonated with me, as I got the same reaction from my friends. It was really nice to see friends that don't hesitate to accept one another.
"Love, Simon" also takes a different look on the whole 'coming out' process. One of the most memorable scenes from the film is a compilation of the straight friends 'coming out' to their families as straight. This was important, as it question societal 'norms', and brought up the question 'why is straight the default?' I found this very interesting and risky for a big film, as some people may see this as a controversial question. As for myself, I wholeheartedly agree with the film's view. It doesn't seem fair that LGBTQ+ people have to come out, or else be assumed straight or cisgender.
Diversity is something that many movies struggle with. That wasn't the case with this film. Obviously, this movie had multiple LGBTQ+ characters. In addition to Simon, there was another openly gay character of color, as well as a closeted gay character of color. There were also multiple other main character who were people of color. They all had important roles, and they all impacted Simon's journey in their own ways. Multiple Jewish characters were shown throughout the film, as well. These identities didn't overpower the characters, which can be an issue in some of the more diverse media. "Love, Simon", in my opinion, did an amazing job transferring the diversity shown in the novel to the big screen.
This film also took a look at the bullying of LGBTQ+ teens in school, which surprised me. I didn't think a big screen movie like "Love, Simon" would want to risk touching on that sore topic. But it did, and they portrayed it very accurately. Bullying is first shown towards the beginning of the film, not directed at Simon but at another openly gay teen named Ethan. It starts off small, with insults and slurs, but soon intensifies to a huge scene in front of most of the school. This scene was sickening, yet a fairly accurate portrayal of what LGBTQ+ teens deal with, even today. One of the teachers, Ms. Albright, stood up to the bullies in defense of both Simon and Ethan. It was really surprising and heartening to see, especially since Simon was at such a low point when it happened. It made me feel better to know, even though it was a movie, that there are places where teachers and other adults stand up against bullying towards LGBTQ+ students.
To me, this movie was a very accurate portrayal of what it is like as a queer teen. I could relate to everything from the awkward interactions to Simon's music choice, and I'm sure other LGBTQ+ teens could as well. Even some of the barely noticeable things Simon said or did with his friend were reflective of how I interact with my friends. Going deeper, the anxiety and fear that Simon showed when he was outed was also very accurate and resonated with me. When he came out to his friends, I could almost feel the same relief that I'd felt when I came out to my own. Then, again, when he came out to his family I saw myself coming out to my own parents reflected on screen.
Overall, "Love, Simon" is a heartwarming film, and an amazing step forward for LGBTQ+ representation. The storyline is exactly what LGBTQ+ teens need right now, and an amazing learning experience for everyone.
About the Writer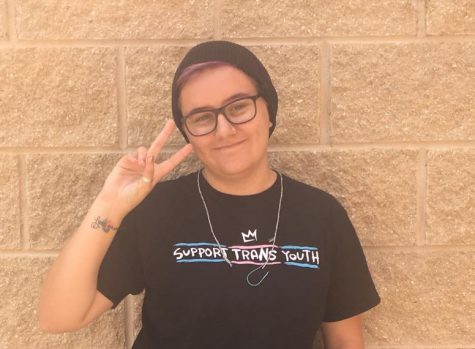 Parker Hopkins, Digital Editor-in-Chief
Parker Hopkins is a senior and this is their third year on the Arrow staff. When they aren't working on the newspaper, they spend a majority of their time...