Rundown to graduation
Cruisin' into prom
When thinking about senior year, two main events come to mind. One of the two events is known as being the last time to bond, dance, and have fun together. That event is prom.
This year's prom will be held at the Grand Palazzo on Van Dyke Thursday, on June 6. This year's prom theme is "Hollywood," and it will even have a red carpet for seniors to walk on.
A lot goes into account when seniors are planning to attend prom. Clothing and other necessities eventually pile up. These finances can be hard to manage.
"It's very financially challenging," senior Kaitlyn Peters said. "It's hard to find an affordable place [for dresses]."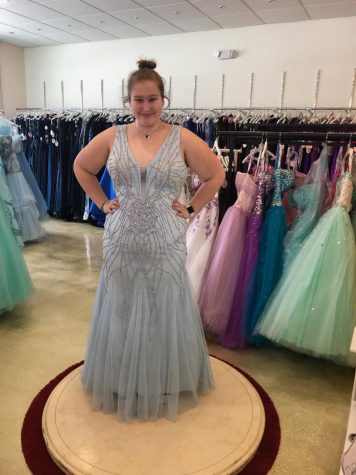 Seniors found very diverse ways to ask their peers to prom. These declarations are dubbed as "promposals." They can be wacky, colorful, or sentimental.
Senior Collin Fox's girlfriend surprised him with a promposal.
"It was very cool for my girlfriend to ask me," Fox said. "It was very unexpected and I was definitely surprised."
Teacher Tammy Hilliard helped organize prom this year in many ways like picking the theme.
"I didn't want to do a vote for the theme because someone will always be unhappy," Hilliard said. "So I picked what I thought would be the prettiest in the hallways."
Prom gives seniors in attendance a chance to feel special, and party with their high school friends one last time. It is meant to be a fun experience for students to enjoy before leaving Utica High.
Gearing up for graduation
Although graduation is a moment most students long for, this year is seeming to be a stressful one.
For example, asking 'could graduation be bumped to a different date to fit weather and DTE scheduling?' In that case, graduation would be at a much later date than expected.
"Graduation would've been bumped into July." Principle Tom Lietz said. "Bob Seger booked DTE for all the month of June."
This year, graduation will be held at the O'rena of Oakland University, June 9 at 3:30 pm. However, the fact that DTE has been booked by Seger during the time of the ceremony, has changed the opinions of graduating students.
Due to limited seating, tickets have been restricted to six tickets per person. This is upsetting for seniors because when The Palace was used for graduation, students were granted unlimited seating.
"I understand that they have to limit the tickets because it's a small venue," senior Julia Bartoy said. "But I have a big family and I need more tickets to accommodate to my family."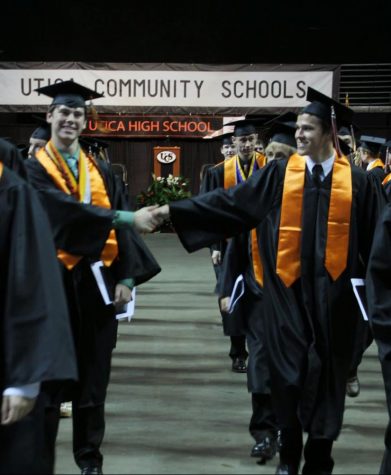 During commencements, the highest ranking valedictorian traditionally gives a speech. This year, however, since seniors Jillian Jezak and Brooke Hineman were tied with the highest GPA, both will give a speech.
"I'm very nervous for everyone to hear what I have to say," Hineman said. "Also very excited at the same time."
Earning the title of valedictorian is viewed by many as being impressive, as it is out of the whole senior class and takes a lot of hard work to accomplish.
"I feel like all my hard work has finally payed off." Hineman said.
In addition to the valedictory speech, every senior in the class was given the opportunity to compete for a spot to speak at commencements. This year's winner was senior Madalyn Dishman.
"I was very shocked because I really wasn't expecting it," Dishman said. "I'm very nervous but excited to speak in front my peers."