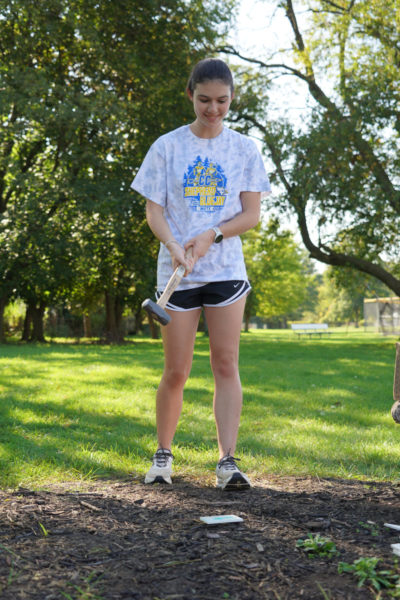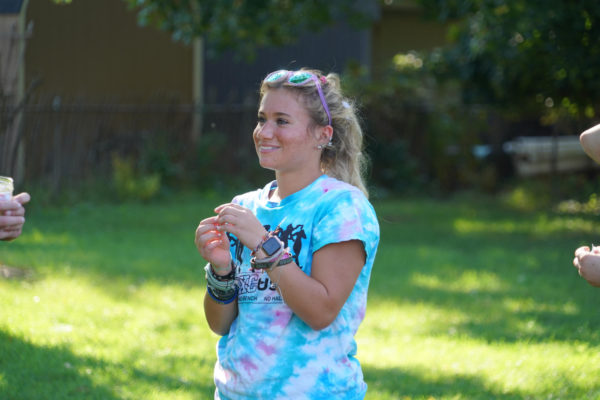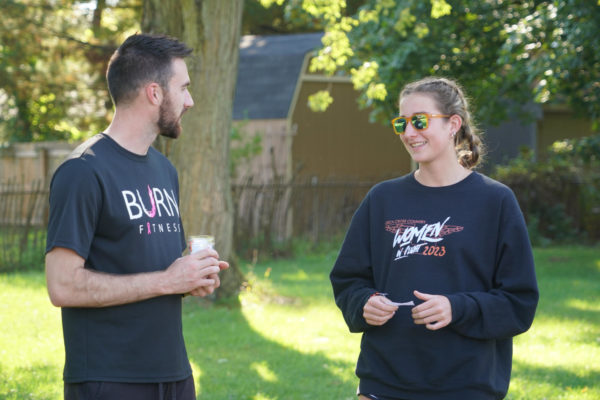 This year the girl's cross-country team has found a new way to set goals. At the beginning of the season coach Chris Scott showed the team a new idea for goal breaking using tiles as a way to motivate the girls to break more goals.
"This is the first year we have done this," Scott said, "and so far, it's kind of fun."
"You put a goal on your tile that you want to run at some point in the season as well as some sort of limiting belief," Scott said. "Some sort of thought or emotion that holds you back from getting to your goal, and then the idea is that once you break your goal you smash your limiting belief with it."
Scott came up with the idea because he wanted to find something symbolic for the girls to break. He brought it up to his assistant coach Cindy Jacklin and she suggested checking a restore shop. He then found the perfect tiles for the smashing ceremonies.
"I think its symbolic," principal Tim Youngblood said," anytime you set a goal you are trying to reach and put it in writing I think it is good."
Five girls have already broken their tiles and the team is eager to break all of them. First year runner, freshmen Evelyn Kopp was the first to break her tile. Her goal was to run a sub 26 5k.  At her first race, 'Lamplighter' Kopp ran a 27:29 5k. And at the next race, 'Early Bird' she broke sub 26 with a 25:43 5k.
"I expected to break my tile after at least four races," Kopp said, "but I ended up breaking it at the second race."
First year runner junior Michaela Coviak broke her tile in the first month of racing.
"I was really excited to break it because sub 29 was a goal that I had for a long time," Coviak said. "I had a mental block that was holding me back.  I felt I couldn't do it because I haven't been running for a long time. Breaking my time was just like breaking through a mental barrier."
With only five girls that have already broken their tiles that leaves 17 others that have yet to break theirs. Second year runner varsity athlete, sophomore Siene Muraszewski is the second fastest runner on the team and is very motivated to smash her goals. With a PR (personal record) of 19:07 ran at Shephard high school Muraszewski has a goal to run a sub-19-minute 5k.
"I haven't broken my tile yet," Muraszewski said. "The fact that I haven't broken my tile yet encourages me to push myself harder."
Junior Faith Kopp set a big goal for herself at the beginning of the season that she is determined to break. 25:06 was the time she ran at the first race 'Lamplighter'. Her most recent PR was run at 'Shepherd' with a 23:11 minute 5k. Kopps goal is to achieve a sub-22-minute 5k.
"I wanted to challenge myself," Kopp said. "I didn't want to set a small goal and hit it quickly. I wanted it to be something I had to fight hard for. I'm very motivated to break my tile I don't want to be the only person who didn't break my tile."
Senior Eleanor Kroetsch is one of the two captains on the cross-country team. This season she started with a 22:09 minute 5k at 'Lamplighter'. To break her tile, she wanted to run a sub-21-minute 5k. Kroetsch broke her tile at the 'Shepherd' course with a time of 20:58.
"When I crossed the finish line, I didn't actually know if I hit my goal," Kroetsch said. "I didn't see the time when I finished, so I didn't know if I got sub -21. Coach came up to me and said, 'You did it.' Then I said, 'I did?' I did it by two seconds."
Goal setting is very important for the cross-country team as it has gotten them to be a very successful team. Six out of the seven varsity runner's times are in the top 25 of the school's history.