Halloween hauntings and horrors
October has arrived. Autumn has just started, the weather is getting colder, school has been in session for roughly a month. Some people think of pumpkin spice lattes, the green leaves turning hues of orange and red, and going to the cider mill.
Others think of one of the most popular holidays in America, Halloween. They think of wearing a costume to represent their favorite character, scary or not. These people might be thinking of the discounted candy and walking around their neighborhood for a couple hours, trying to collect as many sweets as they can. There are some people thinking about the spookier side of
Halloween, and they think of haunted houses and hayrides with people in frightening costumes jumping out at them.
Thrill seekers and horror enthusiats enjoy the month of October because of the various scary activities available throughout the month. There are multiple haunted houses to visit in the Macomb area, making it a popular destination for thrill seekers and Halloween lovers, such as senior Jayy Emery.
"I like haunted houses," Emery said. "I love hanging out with friends and the rush of adrenaline."
Other thrill seekers prefer haunted hayrides, where passengers sit on the a hay covered trailer and ride along as actors jump out of the darkness to scare the riders.
"I find haunted hayrides more enjoyable than haunted houses," sophomore Olivia Nordin said. "Haunted hayrides are more interactive and you can't stop and go back. You have to stick it out to the end, which makes it more scarier and way more fun."
Although usually a less popular option, teenagers can also enjoy the zombie paint ball rides many places offer alongside their haunted houses and hayrides. Similar to the haunted hayride, people ride a trailer through a paint ball course, where they can fight back against an onslaught of zombies with paint ball guns, shooting at as many as possible as they escape the darkness. The shooter needs to be attentive in order to shoot their targets.
"The atmosphere was awesome," junior Dominic Lount said. "It was an exhilarating experience."
Unlike most teenagers, children typically spend Halloween not doing the scary stuff, instead preferring calmer activities like trick-or-treating. Some teenagers want to carry on the tradition they participated in every year as children into their teenage years. For teenagers though, there is the question of how old is too old to trick-or-treat. Some people feel that there is no age limit, while others feel that there is an age where people are "too old" to go trick-or-treating. Junior Manuela Capelj feels that there is no age limit, but there are some things to be avoid.
"It's weird to trick-or-treat alone when you're older," Capelj said. "If you're with friends and dressed up and you're in your own neighborhood, I think it's fine to still go."
Other students do not agree. They feel that at any age, no matter the circumstances, it is perfectly fine to go trick-or-treating.
"I mean, it's free candy," junior Olivia Kurek said. "So probably 18 years old is when you should stop, because at that age you're a legal adult."
Whether you want to have a spookier Halloween or one of the more innocent aspects of the holiday, Macomb offers plenty of options so everyone can have a safe and fun Halloween this year.
About the Writer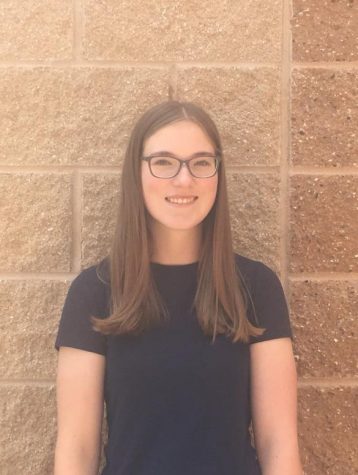 Abby Jenkins, Design Editor
Abby Jenkins is a design editor that is currently a senior at Utica High School. She is part of the Utica color guard. In her free time, Abby likes to...