Big, bright lights of Rochester
It's become a popular tradition for locals. Rochester hosts various winter events every year, and students enjoy taking in the holiday atmosphere while walking through downtown to shop, get coffee, or grab a bite to eat. From tree lightings to Christmas markets and winter pet adoptions, Rochester has something for everyone in the family.
BIG, BRIGHT LIGHT SHOW
The Big, Bright Light Show took place on Dec. 2 in downtown Rochester. This annual event starts on Lagniappe from 6:00-9:00 p.m. Lagniappe is creole for "a little something extra." This is what the merchants of downtown Rochester offer their customers in appreciation for their support throughout the year.
More than one million holiday lights cover the buildings of downtown Rochester. This display is lit every night from 5 p.m. to midnight, and ends Jan. 5. The light show brings crowds of people to downtown, which helps businesses and creates a cheerful holiday atmosphere. Every year, it takes approximately three weeks to put up all of the lights around the village of Rochester.
Junior Chris Kaschalk works at Holy Canolli downtown, and dressed up for the Light Show to walk around and serve samples.
"It's kind of funny to see people's reactions to my costumes," Kaschalk said. "People come in and say that seeing me walk around made them want to come in."
LIGHT THE VILLAGE
The village of Rochester Hills also had their 12th annual "Light the Village" ceremony on Nov. 22. During this event, actress and singer Jennifer Kincer, 100.3 WNIC radio host Jay Towers and Mayor Bryan K. Barnett made appearances to greet Santa Claus and Mrs. Claus.
People from all over came to the village to countdown the tree lighting, see Santa, and sing along with Santa and the whole village. The St. Irenaues children's choir kicked off the festivities at 5:15 pm.
Santa arrived with the Rochester Hills fire department, along with the Stoney Creek High School marching band and the Salvation Army brass band. After participants sung carols together, they started counting down to the big tree lighting.
Teacher Melissa Kevonian went to the village lighting festival for the first time.
"It was a lot of fun. There was a lot going on, and a lot of people," Kevonian said. "It was just really cold."
In the village, there was more to do than just sing along to the carols. For children, there was a bounce house and a craft table, as well as a photo booth.
"My family and I go to the village tree lighting every year," teacher Joy Grieco said. "We went in the photo booth a bunch of times."
The 25-foot tall Christmas tree was lit around 9:00 p.m., with Santa leading the count down. 850,000 lights lit up the village of Rochester Hills at once.
Leave a Comment
About the Contributor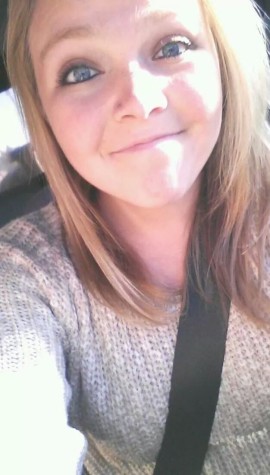 Chelsea Koger, Editor-in-Chief
Chelsea has been on the Arrow for 3 years, and is now Editor-in-Chief. She thinks of 205 as a family and loves being in newspaper for the three hours that...