National Honor Society officially inducts its newest members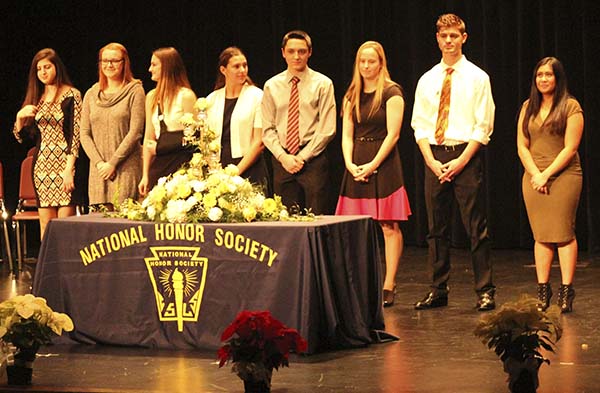 Many juniors and seniors had another event to add to their ever-busy holiday schedules as they were formally inducted into the National Honor Society (NHS) on the evening of Thursday, Dec. 8.
As the newest NHS members walked across the auditorium stage, their names were announced and they were presented with a yellow rose and a wish of congratulations.
Students were excited to be at the official induction ceremony, where inductees were officially announced as members of the National Honor Society. Inductees were presented with a yellow rose, a National Honor Society pin, and documents formally recognizing them as official NHS members.
"It was really nice how [associate principals Peter Paulon and Jeremy Kranzo] announced your name and you walked across the stage," junior Julianna Pulaski said. "It was also really nice that you [were given] a flower [because] it made you feel that you were doing something good."
"It was really fun," junior Alexina Saji said. "I enjoyed it with my friends, and my family was there. It was a nice experience."
Speeches were given by principal Tom Lietz and members of the NHS Executive Board before the official induction of the new members. Each speech's central theme was the National Honor Society itself, or one of the four tenants.
"It was pretty cool to speak at the induction," executive board member Leah Wylie said. "I thought I was going to be nervous speaking in front of my peers and their parents, but it wasn't as bad when I was up there since I couldn't see anyone's faces."
Wylie also enjoyed the speeches given by Lietz and her fellow executive board members.
"I thought [the speeches] were really, really good and well-planned," Wylie said. "Everyone was very well-spoken."
"It was pretty awkward at first," president Kim Soriano said, "but everything was fine [by] the end [of my speech]."
"The speeches were inspiring and really nice," Saji stated.
"All of [the speeches] hit the [tenants] that they had very well," Pulaski said.
Much of the preparation for the event was the work of NHS adviser Linda Kammann and the Executive Board, who planned the ceremony and set up for it.
"It was extremely stressful," Soriano said. "We [set up] during lunch and fourth hour, and there was a lot of stuff to do."
"It was a lot of work," Wylie agreed. "We knew what we had to do, so there wasn't much planning, but there was a lot of work that went into it."
Following the induction, students filtered out of the auditorium with parents and other family members accompanying them, all seeming proud of the new members and their achievements.
"I wasn't a member of the NJHS," Saji said, "so being [a member of National Honor Society] makes me very proud and happy."
"It makes me feel really accomplished," Pulaski agreed.
When all was said and done, those involved with putting the induction ceremony on felt it went well.
"I think it went as smoothly as it could have gone," Soriano said. "It went pretty well."
Leave a Comment
About the Contributor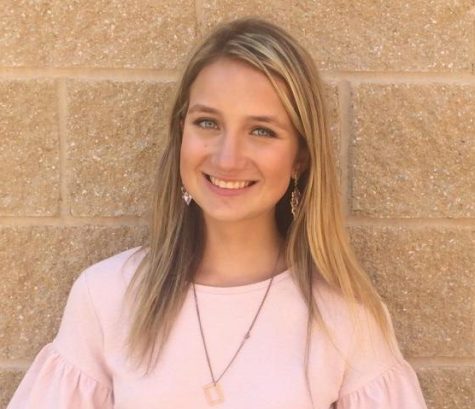 Elizabeth Cetnar, Editor-In-Chief
Elizabeth Cetnar is a senior and is proud to be the editor-in-chief of the award-winning Arrow newspaper. During her second year on the newspaper staff,...