SAYING GOODBYE
Principal Lietz leaves Utica to pursue new career
On March 9, we all received an email from Principal Tom Lietz, detailing how he will not be returning as principal of Utica next year.
"It is with mixed emotions," the email said, "that I share with you that I have accepted a position as the Associate Director for Training with the Michigan Association of Secondary School Principals."
"The appointment begins July 1," the email said, "which means I will continue to serve as Utica High School principal through the end of the school year."
Our staff was absolutely devastated when we heard the news.
A lot of our staff thinks he's a progressive and open-minded principal, which is good for younger generations. He's very involved with his students and the school, so we think his position is going to be extremely hard to fill.
Compared to principals that some of our staff has had in the past, he's a lot easier to relate to and it feels like he truly understands the students. He's willing to talk to us and hear us out on our problems or concerns, which a lot of our past principals were unwilling to do. He listens to kids, educates himself on recent events, and gets with the times.
"
"I have been fortunate to work with an inspiring group of educators, supported by engaged communities, and work for the most amazing students in the world. The UCS community will always be an inspiration to me.""
— Principal Tom Lietz
Mr. Lietz was very reasonable with his rules. A lot of our staff believes the dress code was hurtful and demeaning towards women, and for many of us, Mr. Lietz was the first principal we've had that recognized this and was going to do something about it.
Going forward, we hope that the new principal upholds themselves to the same standards that Mr. Lietz did. Mr. Lietz puts in the effort to be involved in the majority of Utica's events. He has dedicated himself and his family to Utica High School, so much so that he's stated his elementary aged children love Utica and cannot wait to go here.
He also walks around Utica all day every day with a can-do attitude and optimism in his heart. He does his best with the school's and students' best interests in mind.
For example, the Student Mental Health Committee attempted to bring in a therapy dog during U-Matter Week. Mr. Lietz tried to convince the board to allow it because he agreed it'd be beneficial for students and was a great idea. He used his power as a principal to help students reach their goals and make a difference.
On top of all the other incredible things Mr. Lietz has continually done for Utica, he has also supported student journalism and continuously helped us with our stories.
Every month, we'd meet with Mr. Lietz in a press conference and ask him questions about all sorts of different topics. No matter the topic, he'd always give us extremely detailed and lengthy replies that perfectly answered any questions we asked him.
Our staff definitely looked forward to our monthly press conferences with him, since he's so easy to get along with and have a conversation with.
All in all, we truly believe there really is no other principal just like Mr. Lietz. We're really going to miss him, his amazing optimism and attitude, and his incredible support of Utica's journalism program. We definitely have high hopes for the incoming principal, but we will always remember Mr. Lietz.

Leave a Comment
About the Contributor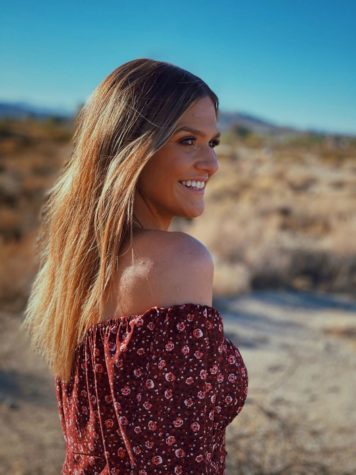 Marissa Barch, Copy Editor
Marissa Barch is a senior at Utica and is a first-year staff for the newspaper. She is Editor-in-Chief of the yearbook at Utica after 3 years on staff....